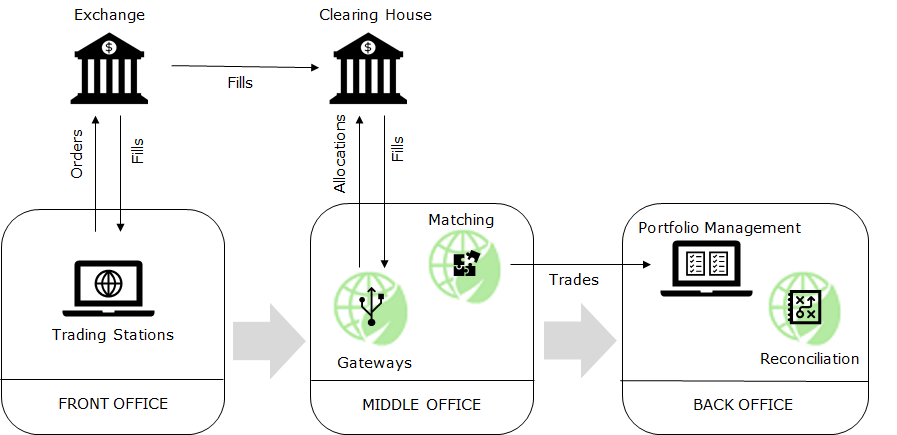 State-of-the-art Market Gateways are an essential component of a front-to-back architecture for Exchange Traded Derivatives. Let's see where they take place in the scene of post-trade processing scenario.
A minimalist overview of a front-to-back ETD architecture
Clearing Houses provide market members with a series of functions for completing the execution of trades.
Market Gateways are at the heart of this process since they receive/send messages from/to clearing houses in real-time according to different protocols (e.g. FIX, FIXML,...).
Market Gateways streamline the business of middle/back office and, at the same time, represent a strong requirement of regulators (e.g. MArket Abuse, MAR).
FRONT OFFICE
Orders are sent by traders to the Exchanges through Trading stations. When buy/sell orders are matched to available derivatives at specified prices, Exchanges communicate back to traders with trades executions which are known as "Fills". An order can be executed through several Fills. According to the matching between the ordered and executed quantity, orders can have several statuses: full, partial or no execution.
MIDDLE OFFICE
Fills go from Exchanges to Clearing Houses which allow the trade owners to check the trade details (contract, maturity, strike, price, etc.) and complete the trade execution through Market Gateways. Market Gateways establish a connection with the electronic platforms of Clearing Houses and retrieve Orders and Trades in real-time, match them, and provide the operator with the status of the orders. For completing the trade execution, updated trades, orders and other clearing information are communicated back to Clearing Houses through a series of clearing operations such as trade allocation, split, merge, give-up, take-up, average price, etc.
BACK OFFICE
Subsequently, Market Gateways send cleared trades to back-office downstream systems for the generation of financial flows (e.g. initial margin, variation margin, P&L, cash balance, etc.), accounting general ledger debit/credit entries, billing, regulation reporting etc. Finally, Data Reconciliation of trades, open positions, margins and cash ensures the coherence between Front and Back Office.
Publié par : Domenico Rotta
Performance enhancement of Middle and Back Office - Market Gateways, Clearing, Matching and Data Reconciliation